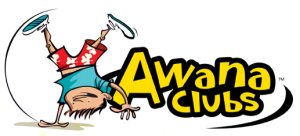 Wednesday Nights 6:30PM – 8:00PM
The letters are from
II Timothy 2:15
and stand for:
A
pproved
W
orkmen
A
re
N
ot
A
shamed.
I

F YOU WOULD BE INTERESTED IN HELPING OUT WITH THE AWANA CLUBS, PLEASE SPEAK WITH MRS. KRISTY KILLEBREW
The Purpose Of AWANA:
AWANA is a Christian youth organization for ages 2 through the 5th grade hosted by churches in over 115 countries and reaching nearly 1.5 million boys and girls worldwide. The goal of AWANA is "to reach boys and girls with the gospel of Christ and train them to serve Him." Clubbers learn that God is real, that He loves them, and that He has expressed that love through Jesus Christ. They also learn how to apply the truths of the Bible to their daily lives and share the gospel with others.
The FBCW AWANA program invites boys and girls ages 2-5th grade to attend our weekly club meetings.
AWANA is an international program that helps churches and parents work together to develop spiritually strong children and youth who faithfully follow Jesus Christ. Our goal is to lead kids to know, love and serve Christ.
At FBCW our AWANA clubs meet on Wednesday evenings from 6:30-8:00pm. September through May. Our meetings consist of handbook time when clubbers have an opportunity to recite memory verses, game time where special AWANA games are played, and council time where a message is presented for each group by age.
To find out which clubs fit your children see the Club Descriptions below.

Puggles are a common term for a baby platypus. In children's ministry circles, Awana Puggles is an enriching program for your pre-Cubbies kids ages 2 years old that presents basic biblical concepts: We are a unique creation of God.God loves us very much. Awana Puggles teaches toddlers simple lessons through teaching cards, activities, music and more. Awana Puggles leaders have a leader's guidebook to help them plan and direct club time and communicate the lesson.

Cubbies
is for potty-trained boys and girls ages 3 – 4 years old and pre – kindergartners. The Awana club for preschoolers is built on two premises:
• Young children can and should receive spiritual training.
• Home is the primary place for spiritual training. Our preschool program meets these needs through … Fun – and lots of it!
Awana is fun with a purpose – to reach and train kids for Jesus Christ. Games, puppets, crafts, awards and other activities transform our preschool program into a lively weekly experience where fun and learning go hand in hand.

Sparks
ignites the curiosity of early elementary-age kids to learn about the people and events of the Bible, building a foundation of wisdom for knowing Christ.
To many children in kindergarten to second grade, Sparks is the highlight of the week! They love their red vests, the exciting games and spending time with leaders and friends.
Sparks is divided into three years, each year with a unique rank: Hang Glider, Wing Runner and Sky Storm. Each year, Sparks clubbers:
· Explore the biographies of people of the Bible from a new portion of Scripture
· Complete handbook activities
The handbooks, combined with Large Group Time lessons from the Who Do I Need to Know From the Bible series, take your child on a journey through the entire Bible!

T&T
is the AWANA Club for third through fifth grade boys and girls. The name Truth & Training reflects the passion of AWANA to teach 3rd – 5th grade boys and girls the truth of God's Word and to train them to follow Christ in their daily lives. T&T is the program that trains the leaders of tomorrow- today. T&T is equipped with dynamic tools such as: (1) Four handbooks of increasing difficulty to teach children that life's ultimate adventure is a personal relationship with Jesus Christ, and (2) A Bible-centered curriculum that helps kids build a firm foundation for their faith, hide God's Word in their heart and apply the truth of Scripture to their daily lives.

Don't wait! Club size is limited by the number of leaders, and priority will go to those volunteering within the clubs and on a first-come, first-served basis after that. Simply complete the appropriate registration and medical release form (you can also pick one up at the church office), attach the appropriate fee, and either send it in the mail, drop it off at the church office during regular business hours, or drop it off at the check-in table just inside the foyer on Sunday mornings. If you haven't served in an AWANA club before, this is a great year to start. A love for our children and a love for our Lord are the primary criteria, and we will provide training for the rest. For more information or to volunteer, contact us at
931.647.3185.